What we offer you and why we believe we are best positioned to provide your conservatory, orangery or garden room.
My name is Paul FitzGerald and I am the owner of the Company. My own background includes 9 years teaching architectural & engineering drawing, building and workshop practice, and 32 years owning my own conservatory, window and building companies.
I retired in 2001, but within 18 months I was back working as a consultant with several National Brand conservatory businesses. I was just beginning to get despondent about the lack of service being provided by these firms when I came across Richmond Oak Ltd. and immediately fell in love with their unique bespoke, seasoned oak conservatories and orangeries. Continue reading →
At Richmond Oak Conservatories, we are able to provide site visits or advice long distance from photographs
Where we have a Designer within a reasonable distance, he will normally contact you to arrange a site visit to discuss your requirements and budgets, carry out a site survey and take photographs. Normally, our designer will get back with you within 14 days, with a 3D visual rendering of our interpretation of your requirements. It's at this stage your feedback is very important to us, as there is almost nothing we can't build, but it's imperative that we meet your aspirations, so telling us your thoughts are an essential part of the process. Your prompt response is always appreciated, so that we can go through the process whilst fresh in all our minds. Where possible, we do ask you to email photos, or any drawings you might already have of the proposed site before we visit. This enables us to give thought to the possibilities before we arrive and leads to a more constructive conversation whilst with you. Continue reading →
Why do you require Conservatory Roof Vents?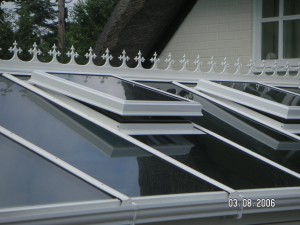 If your conservatory is going to be anywhere but north facing, you should ensure you have at least one or even several conservatory roof vents to allow the warm air to exit the roof.
What most people don't realise, is that two thirds of the heat in any room is in the top third of the room. Quite simply.. warm air rises… that's why the floor is normally the coldest point the room. In a conservatory this is usually made worse by the fact that the warm air, just below the glazed roof is superheated by the sun hitting the roof… even with solar control glass, this is still the hottest point. The following applies, no matter the glazing material, glass or polycarbonate. Not that I recommend it, it's possible to fry an egg on a glass roof. Continue reading →
Richmond Oak Conservatories Ltd is part of Certass
Certass is a not-for-profit organisation formed in 2006 to improve standards in the glazing industry and provides a system which allows approved contractors to self-certify installations. This means they don't need to submit a building notice or use an approved inspector, whenever they install windows, doors or conservatories to comply with building regulations, saving you money in the process.
Richmond Oak Conservatories has chosen Certass as the organisation to be afiliated with instead of Fensa, which is a similar glazing regulatory body. Continue reading →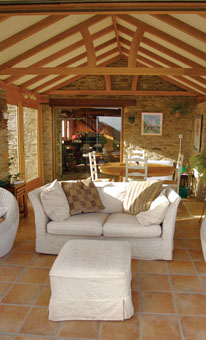 Part of the pleasure of designing and planning a new conservatory is choosing the conservatory furniture and furnishings that will make it a welcoming place to spend time in. However, it is best to avoid using most furniture you may already have in your home, especially if valuable, antique or a dark colour, as they will be damaged by the heat and sunlight.
If you are choosing wood furniture, choose a solid wood like teak that has the added advantage that you can use it outside if required.
Sensible choices, much in keeping with a conservatory lifestyle, is Rattan or Lloyd Loom furniture.
The other problem is fading to fabrics, so it is sensible to avoid using dark colours that can fade very quickly. It is best to choose light colours that will fade less and in case give a feeling of greater spaciousness in the conservatory. Alternatively, make sure that you install and use conservatory blinds to protect your fabrics. Continue reading →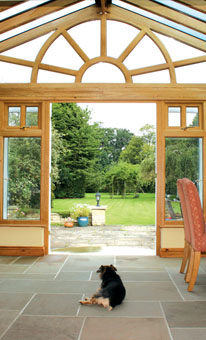 Before choosing a floor material for your conservatory you must consider the use you will be putting your conservatory too. If part of it is a kitchen you'll need to choose a floor that is moisture and spill resistant. If it's going to be a children's play area it should be hardwearing and skid resistant.
You will also need to consider the traffic through the conservatory into the garden; what dirt might get carried in from outside on the soles of shoes and boots and the wear the floor may get.
South facing conservatories heat up quickly, so for these you might want to choose a ceramic or natural stone tile that will help keep the conservatory cool. Continue reading →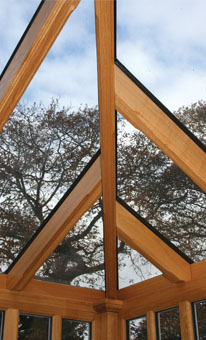 A well-maintained conservatory will give you many years of pleasure and a regular conservatory-cleaning maintenance programme will preserve its good looks.
The majority of your conservatory will be low-maintenance but you should pay particular attention to glass and polycarbonate roofs and the timber if you have a wood conservatory.
You can contract a company to provide a conservatory-cleaning programme for you and they will visit several times a year to undertake conservatory cleaning for you. They will use specialist tools and equipment to reach high places and cleaning products that will not harm the fabric of your conservatory.
If you wish to do the cleaning yourself, or even ensure that a conservatory cleaning company is doing their job properly, take time to read the following guidance notes. Continue reading →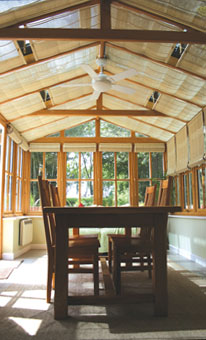 Some people find that a conservatory can be too hot in extreme summer heat and uninviting on cold winter days, even though they have made provision for good conservatory heating and ventilation.
Both problems can be overcome if conservatory blinds and awnings are installed. One or the other may solve your problem.  Blinds can help cut winter heating bills by reducing the volume of warm air escaping through un-insulated glass and with blinds and/or an awning, the conservatory will stay cooler in the summer as the build-up of heat will be reduced.
Choosing a period blind such as a pinoleum blind if you have a traditional conservatory will make the conservatory a more attractive place to while away the hours. And conservatory blinds will also reduce damage to conservatory furniture and furnishings by giving UV light protection. Continue reading →