Conservatory Cleaning and Maintenance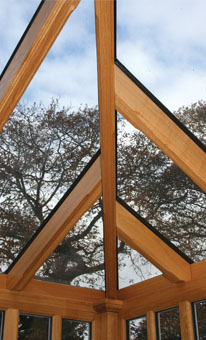 A well-maintained conservatory will give you many years of pleasure and a regular conservatory-cleaning maintenance programme will preserve its good looks.
The majority of your conservatory will be low-maintenance but you should pay particular attention to glass and polycarbonate roofs and the timber if you have a wood conservatory.
You can contract a company to provide a conservatory-cleaning programme for you and they will visit several times a year to undertake conservatory cleaning for you. They will use specialist tools and equipment to reach high places and cleaning products that will not harm the fabric of your conservatory.
If you wish to do the cleaning yourself, or even ensure that a conservatory cleaning company is doing their job properly, take time to read the following guidance notes.
You should be aware of the different cleaning products available so that you can ensure that the correct ones are used during conservatory cleaning and that no damage to your conservatory takes place.
Conservatory Cleaning and Maintenance
Conservatory Roof Cleaning
Self-cleaning glass on a conservatory roof will stay cleaner for longer than untreated glass. However it will probably need cleaning from time-to-time, especially if it is north-facingwhen moss and algae can build up.
Self–cleaning glass works because it has a thin photocatalytic coating its surface. This uses the sun's ultraviolet rays to steadily break down organic dirt using a photocatalytic effect that loosens grime from the glass.
Self–cleaning glass also has hydrophilic properties so that when rain flows down a pane of glass it washes away the grime loosened by the photocatalytic process.
The self-cleaning properties can take a little while to remove bird droppings especially in dry weather in which case you may wish to give it clean.
Most conservatory roof cleaning can be carried out from ground level with telescopic poles with an attached water feed. A spray using warm soapy water should shift most of the dirt although stubborn stains may need to be gently scrubbed before rinsing in clean water.
Once you have cleaned the conservatory roof, it may take several days for the self-cleaning properties to begin working automatically once more.
Cleaning Polycarbonate Roofs
More care needs to be taken cleaning a polycarbonate roof than a glass one. Common household cleaners can damage the chemical coatings the manufacturer may have applied to shield it from UV rays, so you should check the cleaning instructions provided by the manufacturer or builder.
These usually tell you not to scrub polycarbonate with brushes, to avoid all abrasives and cleaners with an alkaline composition and that petroleum-based cleaners should not be used.
Like a glass roof, it is best to use mild warm soapy water, before thoroughly rinsing in clean water and you should avoid doing this on very hot days.
Conservatory Wood Cleaning
If you have an oak conservatory it can be left untreated and over time the exterior will fade and acquire a beautiful weathered appearance.
Alternatively, you can brush clean the exterior of the conservatory once or twice a year and even give it a wipe down with warm water. After allowing it to dry, you can give it a fresh oil treatment to bring out the grain and preserve the natural colour.
There are a number of oils available that come with built-in ultraviolet light protection that will help reduce the bleaching impact of the sun.