Conservation Areas and Areas of Outstanding Natural Beauty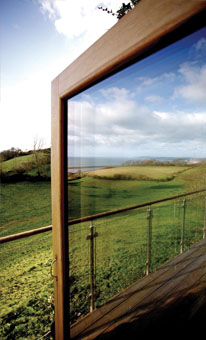 If you live in one of the many Conservation areas or an Area of Outstanding Natural Beauty (AONB), you will usually need Planning Permission before building a conservatory.
Applying for Conservation Area Consent or for permission to build in a ANOB is a separate issue from applying for Conservatory Planning Permission, so you should speak to someone at your Local Authority, usually a Planning Officer or a Conservation Officer, whose job it is to ensure that the fabric of a conservation area is maintained.
Conservatories in Conservation Areas
A Conservation Area is an area with some architectural or historic interest or a desirable area that needs to be preserved. First created in 1967 there are over 8000 of them in England alone.
Conservation areas are chosen by a Local Authority whose job it is to maintain maps of the areas covered. Conservation areas are selected for many different reasons and include the centres of historic towns and cities, ancient villages and leafy residential suburbs.
Selection is not made purely on the quality of buildings; the character of their environment is just as important and gardens, street furniture and other local features are taken into consideration.
Conservatories in Areas of Outstanding Natural Beauty
Natural England is concerned with protecting landscapes for now and future generations and it is they that designate AONB.
An AONB is a landscape whose distinctive character and natural beauty are so outstanding that it is in the nation's interest that it is safeguarded. There are 36 in England, covering about 15% of the countryside. The smallest is the Isles of Scilly at just 16 sq km, the largest the Cotswolds totalling 2,038 sq km.
If you are unsure whether you live within the boundaries of an Area of Outstanding Natural Beauty, check the map available at Natural England and double check with your Local Authority if you are uncertain. This is particularly important if you live on or close to the boundary of an AONB, because even if you are some way outside it you can still be bound by the building regulations since there may be view to your property from within it.
You can find out about the five ANOB's in Wales at the Welsh Government website.
Building or Demolishing a Conservatory in a Conservation Area
Even though this would normally be permitted elsewhere, if you are planning demolish or build a conservatory in a conservation area, you will probably need to get permission before doing so. It is your responsibility to find out from your Local Authority what conservation area consent you will require and if you go ahead without this, it may result in a fine or imprisonment, or both.
Conservation Area Consent
As already mentioned, applying for conservation area consent for your conservatory is a separate issue from making a planning application. The Planning or Conservation Officer, liaise with English Heritage about conservation area matters and usually are happy to discuss plans with you and advise on the steps you should take.
You should also take time to talk to local architects and conservatory designers and installers who have had to manage the process before. They will have negotiated with Planning Officers previously and will be able to advise you if you experience problems with someone being pedantic at the Local Authority.
The design will be important; choose a design that complements your home or is characteristic of the local architecture. It is worth taking the time to look at how other conservatories have been built close to you so that you can get some design ideas from them.
Planning Applications for conservatories in conservation areas usually need to be made in detail and not in outline so that the full impact can considered before a decision is made. This means providing Location Plans at a scale of 1:1250 or 1:2500 and Building Plans at a scale of 1:500.
Building Materials in Conservation Areas
Planning Officers and Conservation Officers often find it easier to approve plans for a new or replacement conservatory if the materials used in construction complement those of the building it is attached too, or to those in the surrounding area.
Therefore, you should make sure that the correct brick or natural local stone is used for dwarf walls and that you also specify natural materials for the conservatory construction such as oak rather than man-made materials such as uPVC.
The use of timber in construction is often looked on favourably, although you may need to paint the exterior to match window frames and doors on the existing property. Sometimes the timber may be allowed to weather and gradually blend in with the area.
Polycarbonate roofing will rarely be allowed, so glass should be specified.