Why is glazing next to a Boundary NOT a good move?
Almost every week I get asked to include glazing next to a boundary, or on the boundary, which I always refuse. In 35 years, I've never done it and I'll walk away from any job where my client insists it's what they want! Perhaps, I should explain why? Continue reading →
I've just had an illuminating conversation with the technical Director at our glass supplier. He has software which calculates the efficiency of double glazed and triple glazed units, dependent upon the type of glass, the thickness of the glass, the space between the glass, the type of gas and the type of spacer used.
It would appear the benefits of triple glazing are being marketed heavily by the glass manufacturers to increase their glass volume output by 50%. However, the true benefits of triple glazing are only evident if the combination of certain factors are at optimum. Continue reading →
We have been asked by many client's to clarify the implementation of the removal of Zero-rated VAT for alterations to Listed Buildings on the 1st October 2012. The content on this page is taken 'word-for-word' from a document issued by the HMRC. Unusually, it is very clear about the change, so I have not sought to change or clarify anything further concerning the following content.
Please note the last paragraph about 'Anti-forestalling legislation' which basically means if you try to evade the VAT by say, asking your builder to raise a zero-rated invoice for the work, prior to completion before the 1st October, this is illegal.
Please also note the exceptions in the paragraph headed 'Transitional arrangements… where a contract was entered into before 21 March 2012″. Continue reading →
Is there really any value in a conservatory Ball Park Figure?
There's not a day goes past when we are not asked "Please can you provide a quote or budget price for a conservatory…" from a rough description over the phone. Quite often followed by "…we only want a 'ball-park figure, we won't hold you to it". When you take into consideration the 30+ main considerations which can have significant effects on price, you might see how difficult it is to come up with a meaningful figure. For a conservatory of the same size and design, depending on the choices, the least costly way of being able to do the project, can be one third of the most expensive option.
So why is this so important? Continue reading →
Like many of our clients, you may wonder why a timber conservatory can cost more than a conventional single storey extension. So it helps to consider a timber conservatory cost comparison
Quite simply, a normal brick built, single storey, tiled roof extension and a conservatory should have identical footings, etc. up to floor level. However, above floor a traditional extension has bricks, blocks, mortar, insulation, treated sawn softwood, plasterboard, tiles, battens and off-the-shelf windows.
Whereas, a bespoke timber conservatory has the same brickwork, blocks, mortar and insulation, etc, albeit usually in smaller amounts, but the rest is in bespoke joinery, to a high standard, having high specification glazing and patented special roofing. This also requires the use of highly skilled labour. Anyone who has had a made-to-measure timber window, or door, will know the cost of such work is several times greater. Continue reading →
Since our last brochure ran out in 2006 and as 99% of our enquiries come via the internet, both for environmental and economic reasons, we no longer send out printed conservatory brochures. Instead, we took a policy decision to concentrate on producing the best and most informative websites on conservatories in the world. Something I believe we have now achieved and which has substantially increased our enquiry level, since doing so. Below you will find more information about our main conservatory websites and photo gallery. Continue reading →
You will probably have heard the expression.. "Conservatories are too cold in the Winter and too hot in the Summer?
That can be true and most are. But NOT a Richmond Oak Conservatory or hardwood Orangery.
The use of a conservatory depends upon maintaining a comfortable temperature by ensuring the design incorporates the correct combination of glazing material and ventilation.
Obviously, if your conservatory is on a north facing wall, in the shadow of a two storey house, then solar control glass will not be necessary but, you will require a glass with a good insulation value. At Richmond Oak, we always provide the correct glazing for whatever position your conservatory sits in relation to the Sun and our options include the highest available insulation glass and solar control glass in the domestic market today. Continue reading →
Richmond Oak Conservatories Ltd is part of Certass
Certass is a not-for-profit organisation formed in 2006 to improve standards in the glazing industry and provides a system which allows approved contractors to self-certify installations. This means they don't need to submit a building notice or use an approved inspector, whenever they install windows, doors or conservatories to comply with building regulations, saving you money in the process.
Richmond Oak Conservatories has chosen Certass as the organisation to be afiliated with instead of Fensa, which is a similar glazing regulatory body. Continue reading →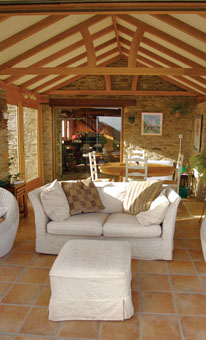 Part of the pleasure of designing and planning a new conservatory is choosing the conservatory furniture and furnishings that will make it a welcoming place to spend time in. However, it is best to avoid using most furniture you may already have in your home, especially if valuable, antique or a dark colour, as they will be damaged by the heat and sunlight.
If you are choosing wood furniture, choose a solid wood like teak that has the added advantage that you can use it outside if required.
Sensible choices, much in keeping with a conservatory lifestyle, is Rattan or Lloyd Loom furniture.
The other problem is fading to fabrics, so it is sensible to avoid using dark colours that can fade very quickly. It is best to choose light colours that will fade less and in case give a feeling of greater spaciousness in the conservatory. Alternatively, make sure that you install and use conservatory blinds to protect your fabrics. Continue reading →