Conservatory Design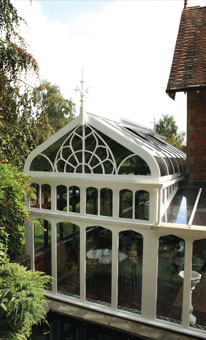 You may already have an idea of the conservatory design you would like for your home, or you may be constrained in your choice if you have a period property and it is necessary to match it with a traditional conservatory of the same period.
Your vision may be limited by the room available in which to build or your budget, but the more you know about conservatory design the easier it becomes to work within any constraints and create a conservatory that will give you years of lasting pleasure and be the envy of friends and neighbours.
Conservatory styles can be broken down into two groups, the first are defined by the period or style of architecture that influenced usually starting historically with Georgian Conservatories and progressing through Victorian Conservatories and Edwardian Conservatories.
The second group is defined by their shape, such as Gable Conservatories, Lean To Conservatories and T Shaped Conservatories.
We'll start by looking at Traditional Conservatories.
Georgian Conservatories
Georgian Architecture is the name given to the architectural style typified by symmetry and proportions current between 1720 and 1840.
At the time conservatories would have been built in brick or stone and limited amounts of glass, due its cost and the lack of insulation that single glazing provided. This meant that often the solid area of the conservatory would be greater than the glass area.
You can find examples of original Georgian Conservatories in the gardens of stately homes across the country; perhaps the best-known original Georgian Conservatory still in existence is the Nash Conservatory first built at Buckingham Palace and moved to Kew Gardens in 1836.
Modern Georgian Style Conservatories will pick up on architectural features of the period such as Doric columns, window frames, the use of small panes of glass, usually six panes high by four across, and dwarf walls.
If your conservatory is being attached to an original Georgian property, these features will be particularly important so that Planning Permission can be given if required. You may also need to match any brick or stonework with that used in your property and window and door frames will need to match as well.
Victorian Conservatories
The Victorian period, especially after the Great Exhibition of 1851 when the Crystal Palace was built, was the time when the building of conservatories exploded. For the first time more people lived in towns and cities than the countryside and people wanted to plants and flowers in their home, especially exotic plants that were becoming more popular.
During Queen Victoria's long reign, a number of architectural styles were used, starting with Victorian Gothic Revival inspired by Augustus Pugin and progressing through Queen Anne style and the Arts and Crafts style.
The Victorian Gothic Revival style is typified by the architecture of the Palace of Westminster; while a Queen Anne Style Conservatory will have features including a complicated, asymmetrical shape, bay windows, a front-facing gable, round or square towers, a steep roof and textured wall surfaces, inside and out, patterned masonry and half-timbering.
Arts & Crafts design and architecture was at its height between 1880 and beyond the reign of Victoria until about 1910. It includes the Art Nouveau style and is characterised by the use of hand-crafted finishes, anti-industrial processes and minimal use of unnecessary decoration.
An Arts & Crafts Style Conservatory will have features such as an asymmetrical shape, exposed construction features, e.g. wooden pegs in beams, bare stone or brick interiors, a low roofline, pebble dash finish to external brickwork and decorations and furniture influenced by William Morris or Charles Rennie Mackintosh.
Edwardian Conservatories
The Edwardian era was quite short following the long reign of Queen Victoria. Lasting from the turn of the twentieth century in 1901 until the death of Edward VII in 1910, (although some architects classify this style of architecture as Edwardian through to the end of the Great War in 1918), it is really an evolution of the Victorian and Arts & Crafts style but with an emphasis on even greater simplicity and especially the use of lighter colours and plain exteriors.
Conservatories described by their shape or purpose include the following:
Orangery Conservatories
Orangery Conservatories are a mix of conservatory and orangery designs. Really they should be described simply as an orangery, but as many people are not aware of what an orangery is, describing your orangery as a conservatory orangery does help people understand what you have had, or are having built.
An conservatory is characterised by including a greater area of glass in its structure than in an orangery of similar size, while an orangery will have usually have a flat roof with one or more roof lanterns set within it.
An orangery will almost certainly be built on a brick dwarf wall while a conservatory can be built on a similar wall or be glazed to the ground.
The design does have practical as well as aesthetic advantages. An orangery can often be more acceptable if you need a design that will pass Planning Consent for a Listed Property; where it is necessary to have easy access to upper windows in a property to meet safety regulations, this can be achieved if there is a flat roof; and a flat roof will also provide privacy from any windows above.
Dome Conservatories
A cupola or domed roof was a feature in some Georgian and Victorian conservatories, today this feature would usually be replaced by a much more simple roof-lantern.
In recent times, a domed conservatory has begun to refer to a dome-shaped roof light inserted into a flat roof of an orangery. It is usually a clear or opaque polycarbonate structure with a slightly domed peak to allow rain to drain from it.
Gable Conservatories
A Gable Conservatory refers to the triangular shape under the end of the pitched roof of the conservatory, where the top of the triangle meets the ridge of the roof.
Depending on its size, it will have a number of trusses within it vertically from the roof or much more interestingly in a range of designs borrowed from the fanlights used above doors in the Georgian period. These can include fan shapes, hence the name fanlight, half-cartwheel designs, sunbursts radiating from a central floret, lozenges and peacock tails.
A gable is typical of a Victorian Style – Queen Anne Conservatory and Edwardian Conservatory and can be made to blend harmoniously with houses from these periods. This is often an important issue when Planning Permission is required for a new conservatory.
Lean To Conservatories
A Lean To conservatory is a modern style characterised by a slanted roof braced on the top elevation by the wall of the property it is attached to.
This simple roof design can be less expensive to build than a conservatory with a pitched or flat roof and will complement a modern home more easily than a fussy traditional conservatory. They may not be satisfactory if upper windows don't allow sufficient height at the wall of the property to give a good downward slant with headroom at the opposite end. By the same token, they are rarely satisfactory on bungalows and other single story buildings.
T Shaped Conservatories
A T-Shaped Conservatory refers to the floor plan of the conservatory in which the horizontal top line of the T will usually be a Lean To structure attached to the property, while the vertical line of the T can be a Victorian or Edwardian design.
This allows you to create a large central space that extends into the garden as well as a conservatory along the entire wall it is attached to. If you have a size limit imposed on the conservatory design, this can be an elegant solution.
P Shaped Conservatories
A P Shaped Conservatory refers to the floor plan of the conservatory where the vertical line of the P will usually be a Lean To structure attached to the wall of the property, while the semi-circle of the P could be a Victorian or other traditional conservatory design complementing the lean-to part that it joins.
Like T Shaped Conservatories, by adopting a design like this you create a large space that extends into the garden and also have the benefit of a conservatory along part of, or the entire wall, it is attached to.
Sliding Door Conservatories
Sliding doors for conservatories can be simple sliding doors as often seen in patio doors, folding or concertina.
Their benefit, especially in south-facing conservatories, is that they allow extra ventilation into the conservatory compared with the narrow opening afforded by French Doors. A Patio sliding door, or series of sliding doors, will allow extra ventilation but with folding or concertina doors you can in effect remove an entire wall or walls when necessary.
A good quality sliding mechanism that will allow the doors to glide open or shut must be specified as double glazed doors can be heavy and will be difficult to move if an inferior mechanism is selected. A cheap mechanism may save you money in the short-term, but you'll wish you had specified the better quality when sunshine turns to rain and doors need closing quickly.
Lantern Conservatories
Adding a lantern to a conservatory design will raise the ceiling height and give the interior a feeling of real space. The two-tiered design adds an extra level to the main roof and works particularly well on large homes of the Victorian and Edwardian periods where smaller conservatory can look stunted.
The windows in the lantern can be made to open to increase ventilation and it is best to have these electrically operated due to their height from the floor of the conservatory and the difficulty of using a manual mechanism.
Coloured glass or stained glass used in the vertical lantern will complete the period effect and give a dappled light to the interior.