Conservatory Size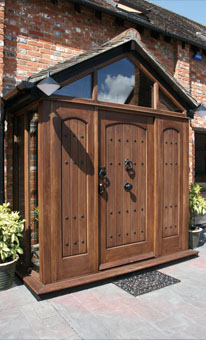 Most people overestimate the conservatory size that they are planning. We recommend measuring existing internal room sizes so you can more easily visualise the size and what furnishings you can accommodate within your plan.
Average Room Size
The average room size in the UK is around 16 square meters and slightly less than this in newly built homes, so this can indicate how large or small you want your conservatory to be.
It is also a good idea to go outside into the garden and using some bricks and string, dummy up the floor area of the conservatory you would like on the ground in.
Use some garden furniture and arrange it in your outlined space and see whether the conservatory needs to be larger or smaller. You should also mark the positions of doors from the house and from the conservatory into the garden so you can see the thoroughfares and whether you can comfortably move around your furniture.
Conservatory Size – Internal
Once you have established the internal size for the conservatory you are planning, you will need to add approximately 300mm for each wall thickness to allow for walls and insulation.
Adding 600mm to the width can mean adding as much as 10 – 20% to the overall size of a small to medium sized conservatory and you may need to amend your plans.
Conservatory Size – External
Once you have established the external size of your conservatory, check with your Local Authority whether your home is subject to local building restrictions.
There may be a limit to the size of the conservatory you can build if your home is a Listed Building, in a Conservation Areas & AONB, or in or close to an Area of Outstanding Natural Beauty (AONB).
Developers of new property developments often include a covenant into their contract requiring their permission before extensions such as conservatories are allowed to be built. So make a check of this if it applies to you.
Your planned conservatory must not exceed four metres in height when it is less than two metres from any boundary. The height of the conservatory may equal the height of the house.
Conservatory Size – Cubic Meters
Detached and semi-detached properties may be extended without planning permission by up to 70 cubic metres or 15% of the volume of the original house; whichever is the greater, to a maximum of 115 cubic metres.
If your home has been previously extended, you will have eaten into some of the maximum permitted development you are allowed. You will need to include this in your calculations and if the maximum of 115 cubic meters is exceeded you might need to apply for planning permission.