Conservatory Positioning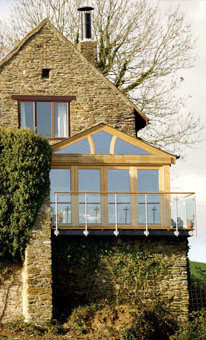 The advice here applies to conservatories built in the northern hemisphere; you will have to reverse the answers if you live in the southern hemisphere.
A north-facing conservatory will be cooler since it receives less direct sunlight than a south-facing conservatory and without heating and good insulation you may find it too uncomfortable for everyday use in the coldest winter months.
In summer a south-facing conservatory will need opening windows and roof vents. A west-facing conservatory provides good sunlight on bright afternoons and into late summer evenings. A west-facing conservatory may need some heating in the morning and ventilation via windows and roof vents in the early evening.
Adding a back of property conservatory to your home is the easiest way to extend your home with few or no Planning Permission problems, while adding a front of property conservatory can cause problems unless you have a very large garden and a sympathetic design.
A side of property conservatory may be limited in size to 50% or less of the existing width of the property and when built may restrict access to your back garden.
If you build a north-facing conservatory and wish to use it all year round, you'll need to plan for good insulation and heating. A north-facing conservatory receives less direct sunlight during the afternoon and evening than a south-facing conservatory and without heating and good insulation you may find it unsuitable for everyday use in the winter.
North-facing conservatories do provide a number of benefits. In summer months they are great places to spend time in during the morning and later in the day will not overheat on extremely warm days, as a south-facing conservatory invariably will. You may also be able to avoid investing in roof blinds especially if you choose double glazing and heat-reflective glass.
A south-facing conservatory will make the most of winter sun but during the summer it can become uncomfortable as it will heat up quickly and retain heat for longer, especially if there is inadequate ventilation and shading.
You will need to invest in roof blinds or an awning and/or solar reflecting glass.
Opening French or double doors, rather than single doors will allow a greater airflow through the conservatory. If space allows, large sliding or concertina doors will provide even more ventilation. You may also need to consider the installation of air-conditioning in your conservatory.
Despite all this, a south-facing conservatory is one of the nicest places to relax on spring, summer and autumn evenings as they make the most of the sun as it sinks down to the horizon.
East-facing conservatories are perfect for breakfast rooms as they get the benefit of the early morning sun. Easterly winds can blow cold, so you may need to heat an east-facing conservatory and provide insulation with double-glazing and/or dwarf walls to maintain its comfort level.
A west-facing conservatory provides sunlight on bright afternoons. In many respects they are similar to south-facing conservatories but will need some heating in the morning and ventilation via windows, roof vents and double or sliding doors in the afternoon and early evening.
Back of Property Conservatory
Building a conservatory to the back of your property is easiest if you need Planning Permission and to meet Building Regulations.
Problems can arise if you have no side access to the back of your property or via an access road at the rear, in which case all the building materials will have to be carried in through the front door and out via the kitchen or other rear door in a living or dining room. You will have to put up with builders going to and fro through your home while the conservatory is built.
If you have a friendly neighbour, they may allow your builder access via their garden, but you will need to ensure that it is tidied up when the job is finished.
Front of Property Conservatory
Unless your home has a very large front garden some distance from the highway, a conservatory at the front of your home may not be allowed by your local council because it will be exposed to public view.
An Orangery Conservatory built on a dwarf wall will provide some degree of privacy that is impossible to achieve with ground to roof glazing. An experienced conservatory designer will be able to advise you and let you know the best way to approach the local authority with your plans.
Side of Property Conservatory
Like a Front of Property Conservatory, it can be difficult to get Planning Permission for a conservatory on the side of your home.
An Orangery Conservatory will provide some privacy and you can glaze the side facing the highway with etched or tinted glass to make the room more private. The opposite wall can then be in clear glass running from floor to ceiling.
If you use the side of the house to gain access to the front and rear, to move garden equipment or refuse bins for example, you will need to take this into consideration and ensure that side access or an alternative route is available.